Double Magic Slots
Play Online Mobile Slots and Cell Phone Slots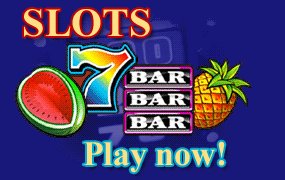 Double Magic mobile slots game
Double Magic is a slot machine with a mysterious and magic theme. The symbols used in this game follow the regular classic slots theme: cherry (cherries), single bar, double bar, triple bar, any bar, red sevens and the blue stars. This game is not progressive, but there are two versions available and one is playable by mobile.
Double Magic is a Microgaming slots game and the first version contains three reels and just a single pay line. The other version is the Double Magic Megaspin, which is a very unusual game that plays nine different sets of reels at one time. This is like playing 9 separate slot machines at one time. For now, we will focus on the first version that is a cell phone slots game.
How to play cell phone Double Magic slots
Double Magic slots uses difference denominations of coins for each spin, players can go as low quarters, half dollars, dollars, two dollars and five dollar spins. The maximum bet is two coins of these denominations ($0.25, $0.50, $1.00, $2.00, $5.00). This means the maximum bet is ten dollars. Many online casinos use these types of denominations.
The objective is to line up three blue stars in order to win the jackpot of 1600 coins, or $8000 using $5 denominations per spin. The jackpot isn't as large as other slots, but Double Magic has a pretty high number of payouts though so this game is great if you would like to win prizes often. This also makes the game more entertaining and fun to play on a cell phone as you keep your money longer by winning more times.
Double Magic wild symbols and multipliers
This slot machine uses the wild symbol features. The wild card symbols are the blue magic stars. These symbols substitute for any symbol that will give you the win for the most money on a single spin. Another feature is the blue star magic multiplier. Not only is the magic star a wild symbol, it multiplies your winnings.
When you get one star with two matching symbols, you win twice (2x) that amount, but if you get two stars and one other symbol on the pay line, you will win four times (4x) the winning value on the pay table. Of course if you get all three stars, you will win the Double Magic jackpot.
This slot machine is probably one of the more fun casino games to play on cell phone. It's simple and doesn't have many complicated features, yet players tend to get payouts more often than other slots. Playing this mobile slots game is great when you are on the go or waiting around. If you are interested in the Megaspin Double Magic, this game can be played online on your personal computer.