Major Millions Progressive Slots
Mobile Cell Phone Casino Slots - Progressive Slot Jackpots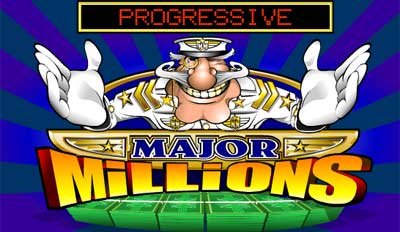 Win a million dollars playing Major Millions progressive slots
Major Millions is one of the most well known progressive slot machines on the internet. This is also game that can be played directly on a cell phone or mobile device. The most prominent feature of this game is the ability for players to actually win a million dollars playing progressive slots, hence the name Major Millions.
Major Millions has a few versions of its slot machine game. The first variety is a classic three reel slot. This version consists of the typical 3 line - 3 reel game. Since this is a progressive jackpot, players will be wagering $1 per line for a maximum $3 spin. In this version, a player can only win $250,000.
The second type of Major Million slots is the 5 reel version. Instead of 5 lines, this slot machine consists of 15 lines where a player bets $1 per line as well across five reels. This is where a player can win a million dollars by getting the five Major Million symbols across any single line.
Major Million payout symbols and wild card slots
First of all, the starting jackpot in Major Millions is a quarter of a million dollars all the time, this is our minimum jackpot. Imagine winning even $250K by playing slots on your cell phone? Usually the progressive payout reaches into the millions of dollars and players can still win even a million dollars playing mobile slots.
Major Millions is also a wild symbol game, meaning when the Major Million symbol lands on the line, this becomes a wild card that turns into the symbol that lets you win the most money. This slot machine uses the classic symbols which include cherries, one bar, two bar, three bars (triple bars), red sevens and blue sevens. This game is easy to use and especially user friendly as a slot machine being played on a cell phone.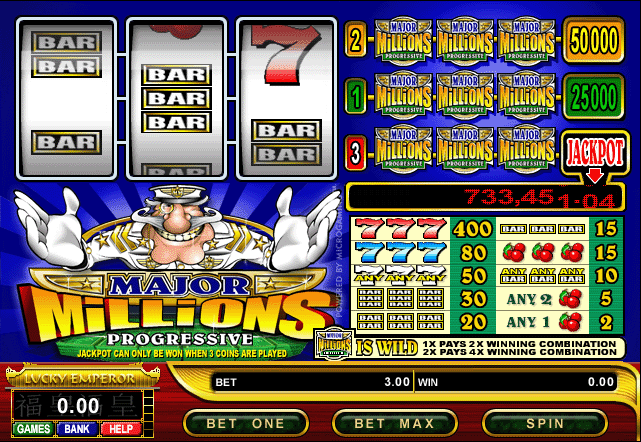 Major Millions strategy and progressive slots strategy
As in all progressive slot games, the best strategy is to wager the maximum bet on each spin. If you don't, you will not be able to qualify for the Major Millions jackpot. In addition, the odds per spin are increased because the potential to spin a progressive jackpot will let you win a much bigger cash bonus. Betting the maximum on the 3 reel slot and 5 reel slot is highly recommended, especially when the jackpot is over a million dollars and the slot machine is about to pay out.
There really isn't a true strategy for actually winning at Major Millions, but this tip will greatly improve your odds of winning big and changing your life forever. The general strategies for any progressive slots is to play when the jackpot is very large or bet more when there is a big pot.
Play Major Millions slots on your cell phone
Cell phone slots are very convenient when players are on the go. You can play regular classic slots and the progressive version with the jackpots on a mobile device such as your cell phone. Having the ability to play slots on your cell phone is great for when you are on the go and away from your computer, and especially important when the jackpot is about to crack and you want to get into the game and play for a chance to win a million.