Fruit Fiesta Slots
Play Fruit Fiesta Slots Online or Mobile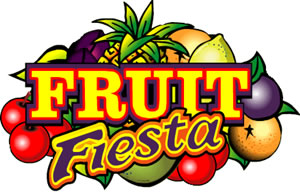 Fruit Fiesta progressive slots and jackpots
Fruit Fiesta slots is another fruits themed game typically found in video slots. There are two versions of this game available. There is a three reel Fruit Fiesta slots, which is the regular classic reel version and then there is a five reel Fruit Fiesta slots, which is the video slot version. These can be played on a cell phone or mobile wireless device.
Both versions of Fruit Fiesta allow players to play for the progressive jackpot. The 3 reel slots takes twenty five cents or quarters ($0.25) only while the 5 reel slot is a nickel slots that is fixed to five cents ($0.05) per payline as a minimum wager. The 3 reel version has three pay lines while the 5 reel version has fifteen pay lines.
In either version of slot machine in Fruit Fiesta, the player must wager the maximum bet and pay lines in order to qualify for the jackpot. In both cases, the player must wager $0.75 per spin in order to qualify. The progressive jackpot is part of the Microgaming slots network with the jackpot being built around a system of Fruit Fiesta slot machines all over the internet. The Microgaming jackpot network is also connected through mobile slots or slot machines being played on cell phones and wireless slots globally.
How to play Fruit Fiesta mobile slots
Fruit slots are very well known and Fruit Fiesta is just another variety found at online casinos. The fruit symbols include plums, pineapples, oranges, limes, watermelons, and lemons. The other symbols include non-fruits such as bars (triple bars), bells and rainbow sevens.
The jackpot, or the Fruit Fiesta symbol, is a wild card which substitutes for any other symbol that will give you the highest winnings. In order to win the progressive jackpot, you must have all these symbols on a single line on the maximum bet and with all pay lines in play in either the 3 line or 15 line versions. Then you will win progressive jackpot whether you are playing online slots on a computer or on a cell phone.
Fruit Fiesta wild symbols and scatter symbol slots
Fruit Fiesta also has the scatter symbol features in play. The scatter melons don't need to land on any particular pay line but you will still win money depending on the number of scatters. This is especially exciting and fun to play on the multiple line video slot version.
This slot machine has an autoplay feature as well. This means the player doesn't have to click on a button or spin the reels on every spin, the autoplay will spin automatically until you tell it to stop.
Fruit Fiesta is a special type of slots because it is one of the mobile slots, which contains all the same features playable online on a personal computer. This makes it great for when you are on the go or waiting around. The jackpots have reached over $100,000 on this game. Imagine winning $100,000 on your cell phone while you are waiting around or mobile on the go!